Weight: 550 g
Regular price
Sale price
$100.00
Unit price
per
Sale
Sold out
Reasons to Love
Bean to Bar
Bean to Bar
Direct-Source Cacao
Direct Sourced
Woman Owned
Woman Owned
Looking for the ultimate gift? Our World Chocolate gift box is a game-changer. Choose between 7 or 10 full-size bars of award-winning chocolate that'll take your giftee from "meh" grocery store options to "wow" in one bite. 😋
Our 10-bar box is at least 1.25 lb of solid luxe and decadent chocolate offering over a month of enjoyment so you can savor flavors and discover different origins.
YOUR OPTIONS:
Anything Goes: A tasty mix of Dark, Milk and White chocolate.
Dark and Vegan: For the purist, dark chocolate 64%+ and up.
All Milk: A milk chocolate lover's dream.
FLAVOR VIBES
YES: From nuts, fruits and other wonderful flavors. Note: not allergy-friendly. We recommend this for gift giving!
NO: All plain and pure chocolate bars only.
Each box is hand-packed and ready for gifting. Want to add a personal touch? Include a free gift message at checkout. your cart.
Manufactured in a facility which also processes dairy
Trace Dairy
Manufactured in a facility which also processes peanuts
Trace Peanuts
Manufactured in a facility which also processes soy
Trace Soy
Manufactured in a facility which also processes Tree Nuts
Trace Tree Nut
Manufactured in a facility which also processes wheat or gluten
Trace Gluten
INGREDIENTS & ALLERGENS

No ingredients and allergens information available.
SHIPPING & GIFT OPTIONS

Free standard shipping for US orders $75+ or $6.99 flat rate. Faster options available at checkout. Warm weather? We ship with eco-friendly ice and insulation for no melt shipping.

International: Canada: $9.99 Flat Rate $150+ Other Countries: Rates calculated at checkout.

Add a Gift Message (free) or a Gift Box ($6) from the side cart. Contact us for corporate gift options.
View full details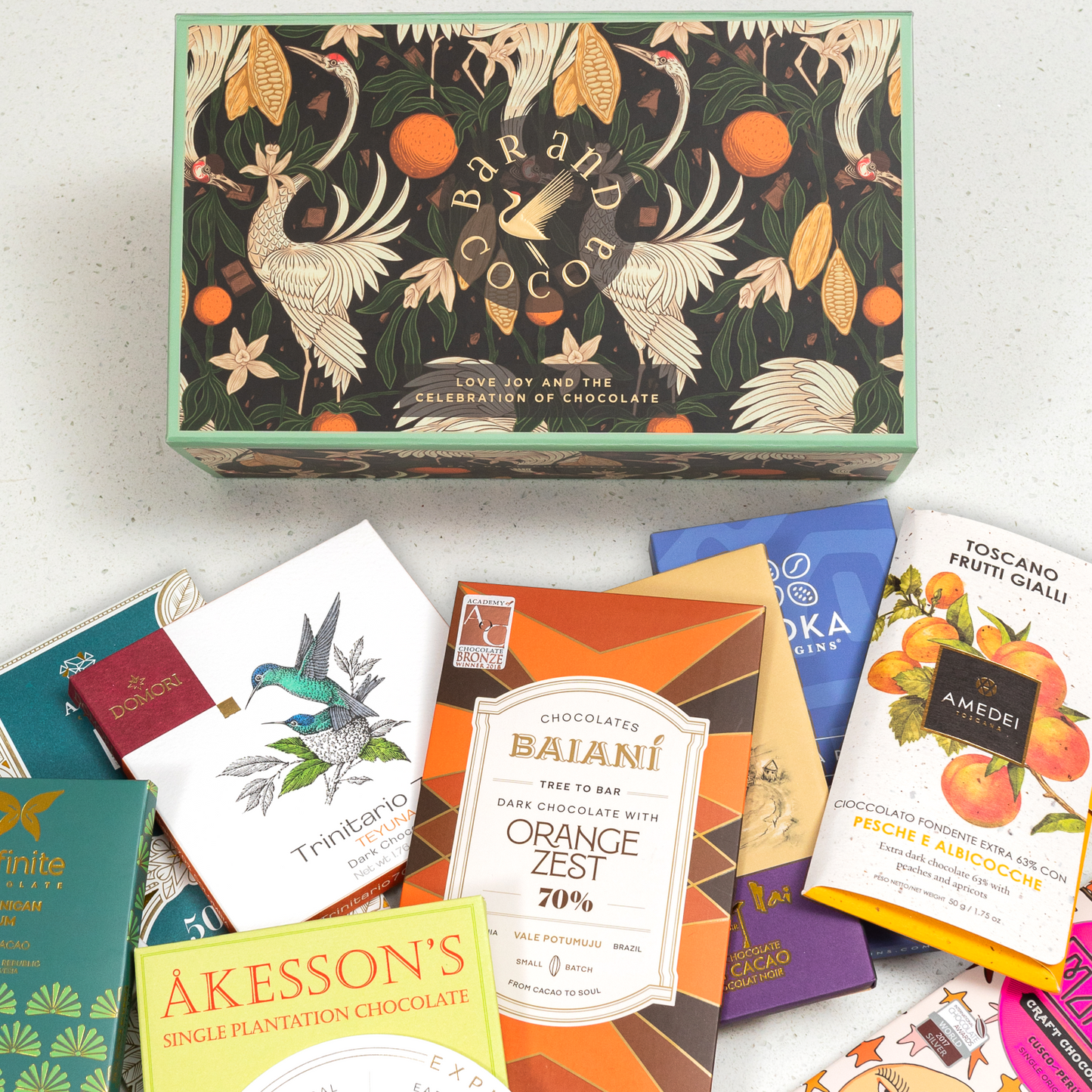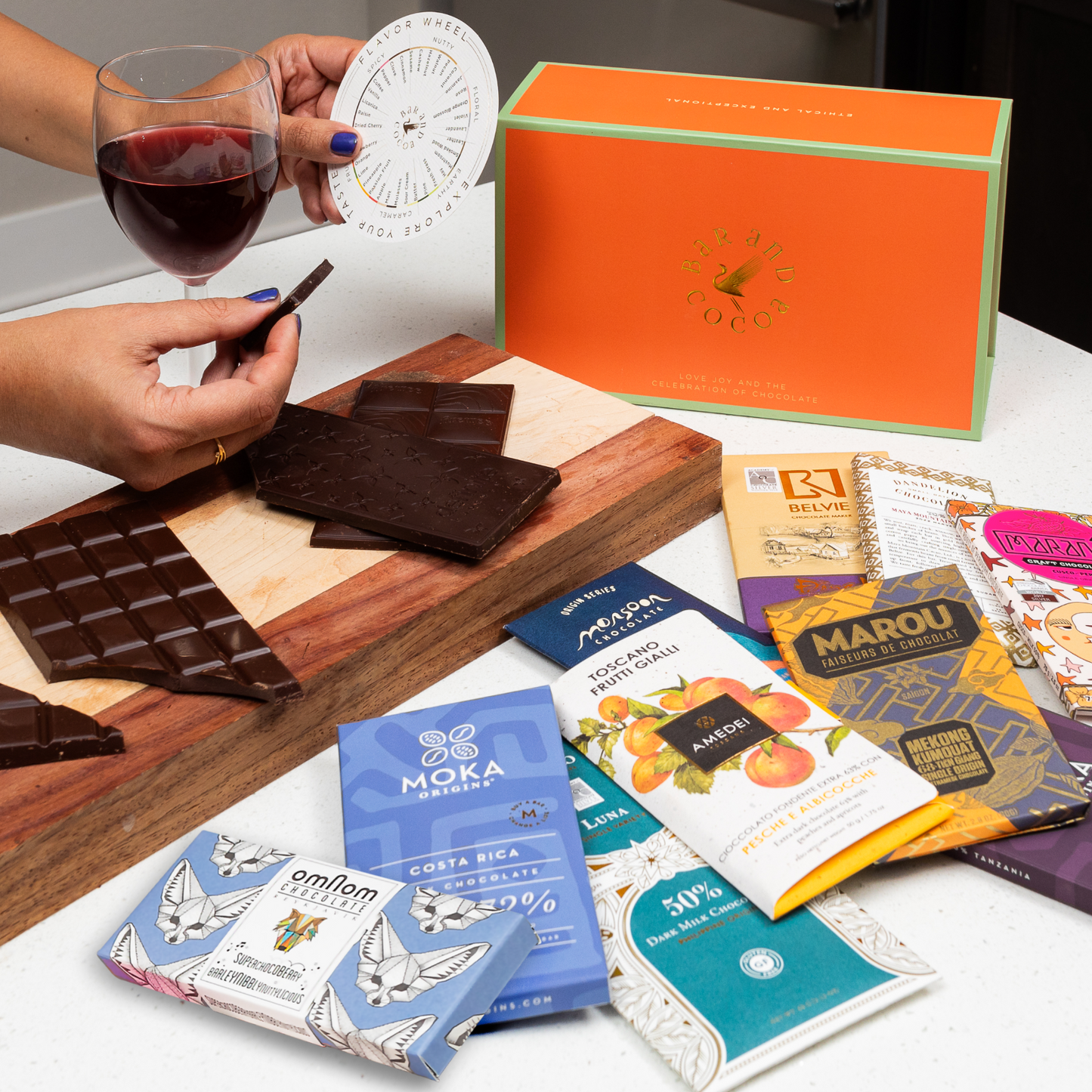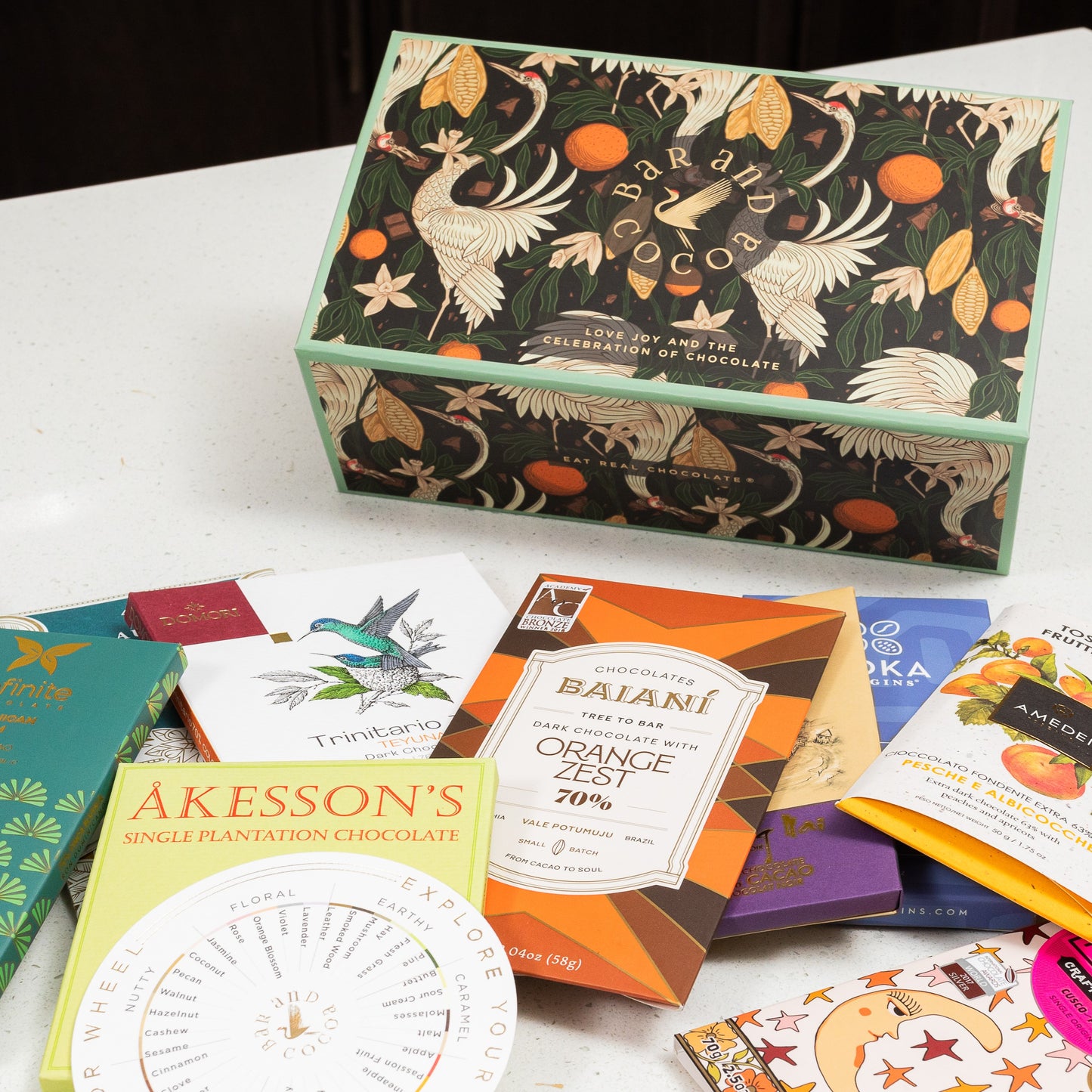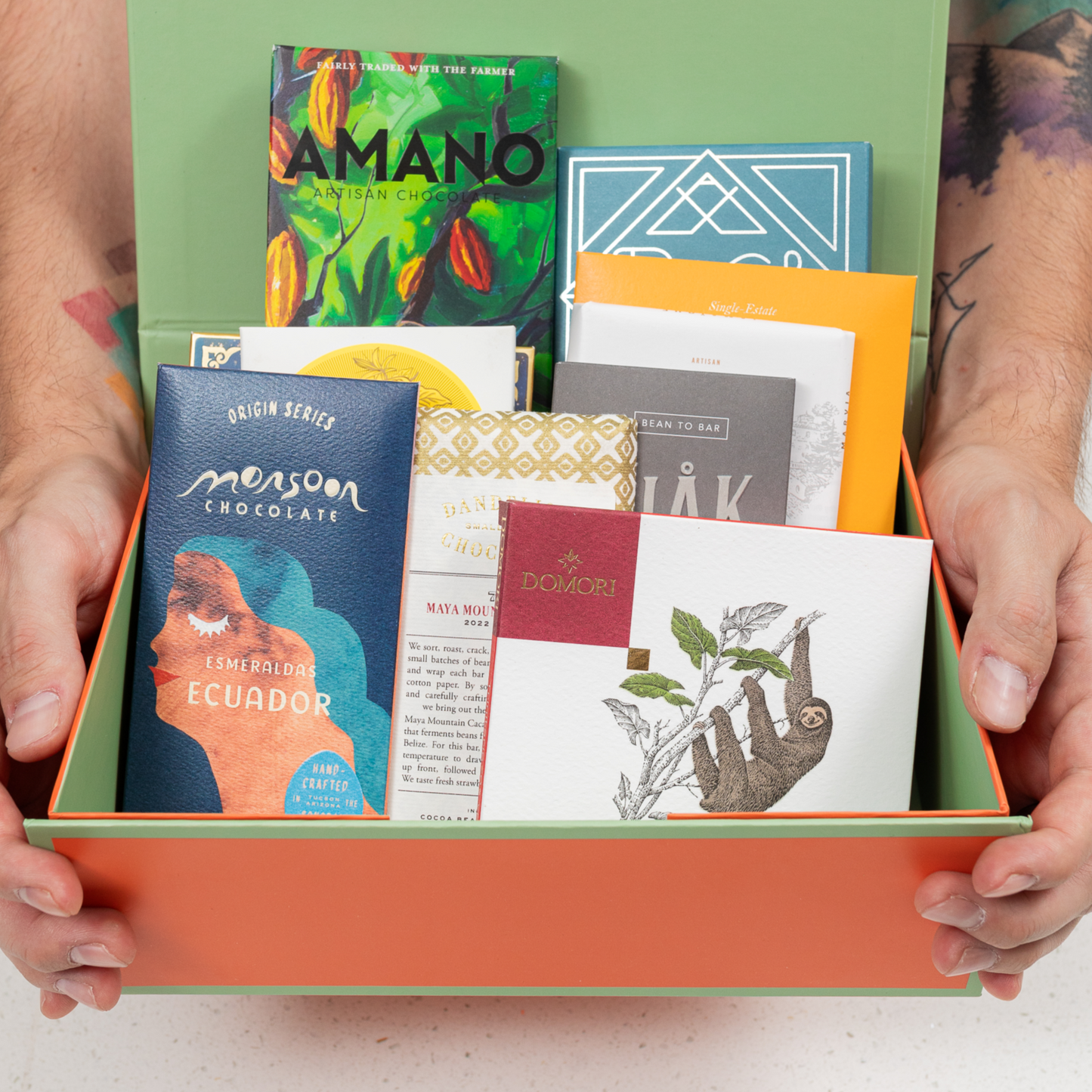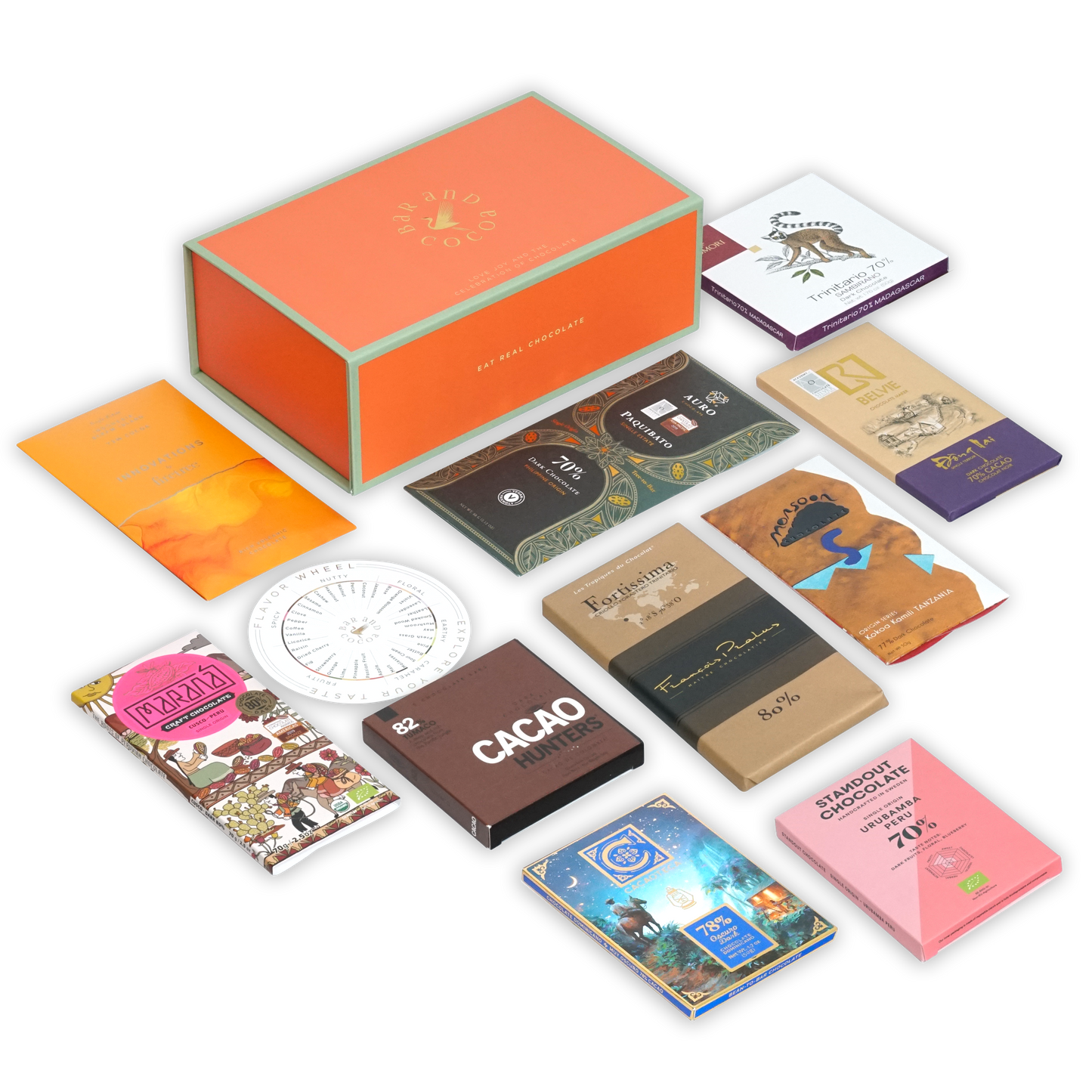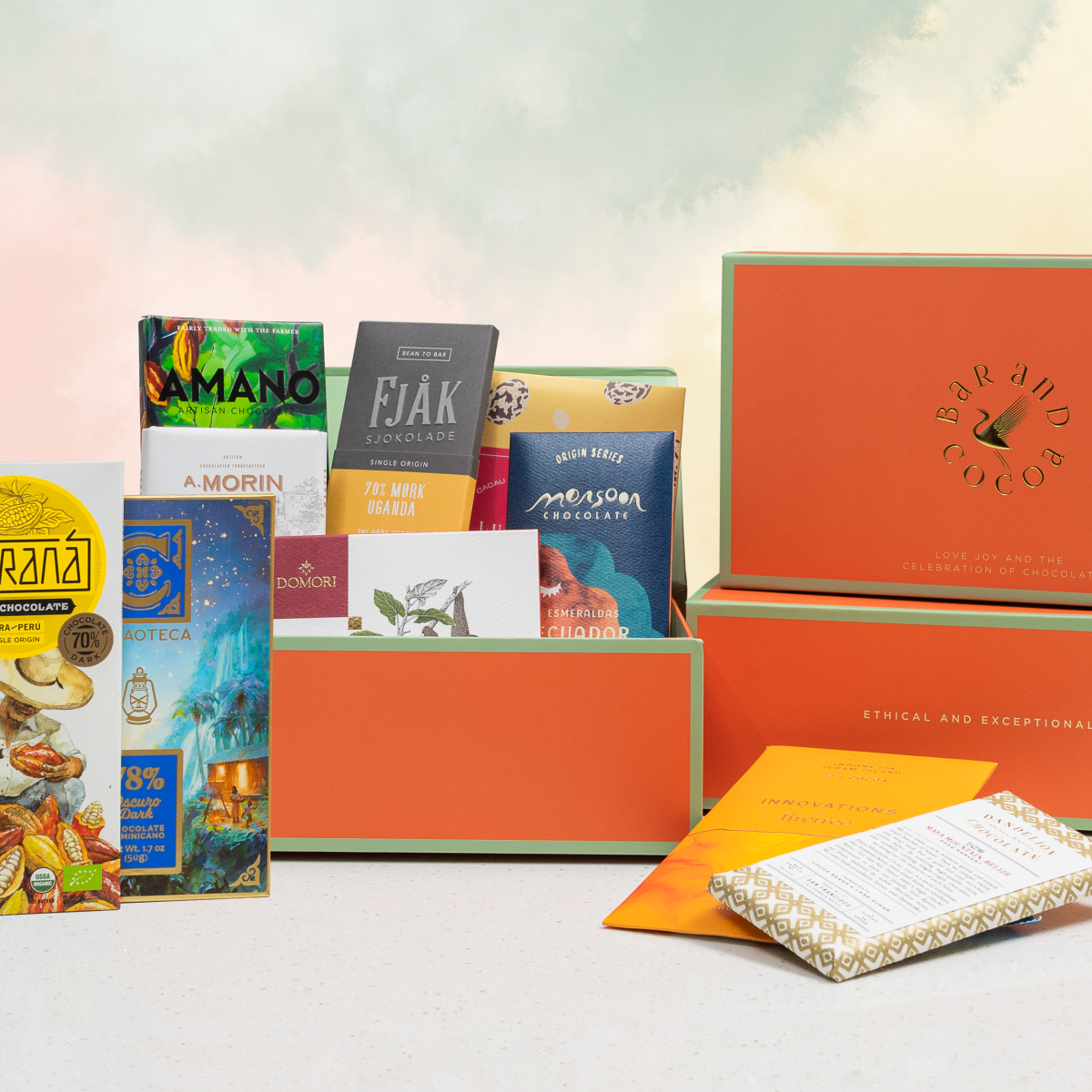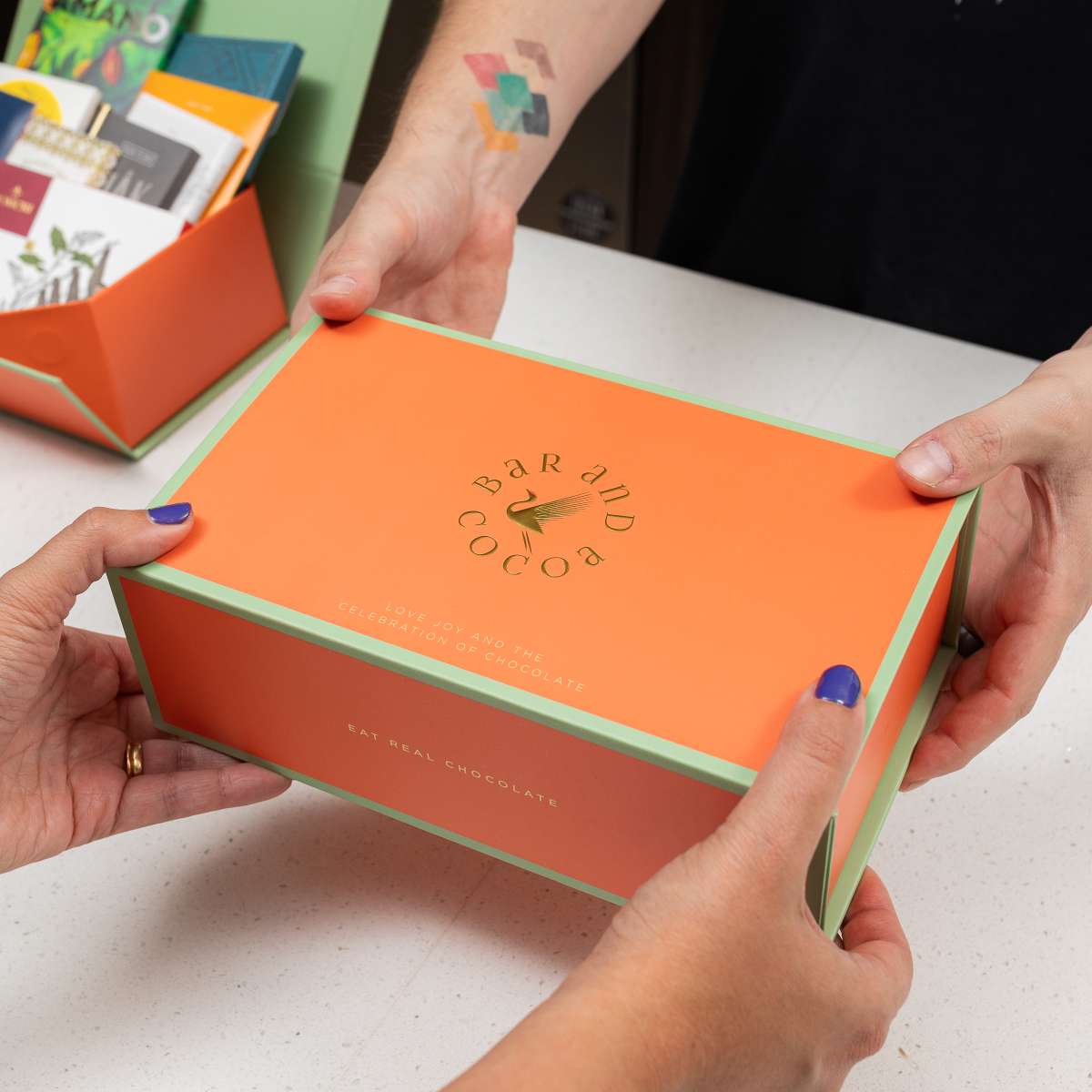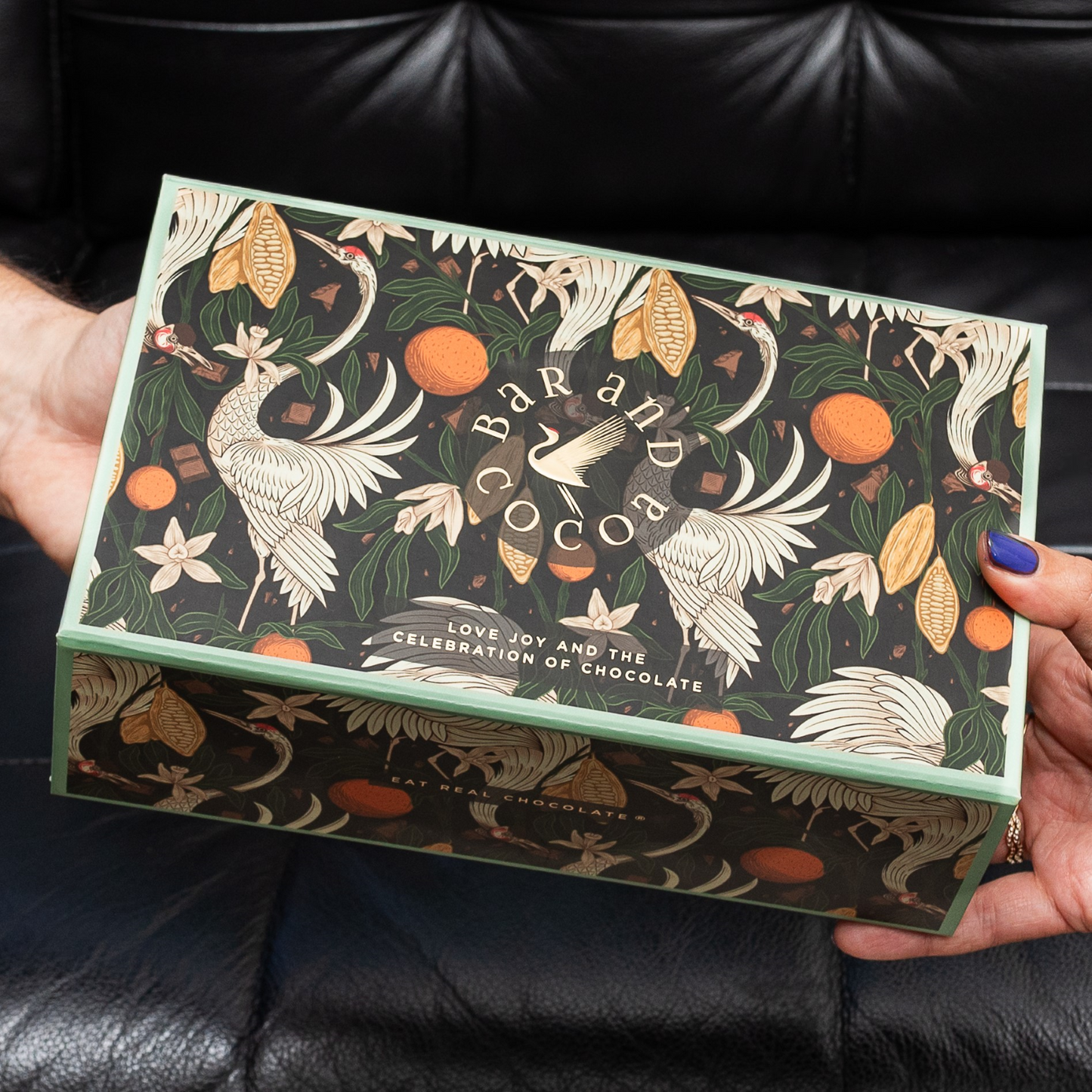 REAL CHOCOLATE

True chocolate has rich, nuanced flavors. Like wine it can vary by the variety of cacao beans, and where it's grown.

A CURATED SELECTION

A diverse selection sourced from the top 2% of all chocolate in the world.

ETHICALLY SOURCED

Chocolate makers that source cacao at high standards beyond Fair Trade, and produce responsibly.

25,000+ HAPPY CUSTOMERS

Once you've tasted pure chocolate, the other stuff won't do. Read verified customer reviews.
Best Gift Ever!
My husband got this subscription as a gift from his kids. I don't even care for chocolate but this has been so much fun and the chocolate has been amazing. We are going to extend our subscription because we love it so much.
Perfect Mother's Day gift
Although I did not eat these chocolates, my mother (the gift recipient), said they were wonderful, each slightly different from the others.
Chocolate Bars of the World Gift Box
I gave the 10-bar dark chocolate gift to a friend who loves "plain" dark chocolate (no fruit, nuts, fillings, etc). This was my first Bar & Cocoa purchase and definitely not my last. My friend said the packaging was simply beautiful — even the paper inside the outer box was cut like fancy lace — and there were so many delectable-sounding choices she wasn't sure where to begin her "scrumptious adventure". She shared, "These folks got it right from packing to shipping. Truly elegant! And I'm sure the flavors will NOT disappoint!" Customer service and shipping were both fast and excellent. If the chocolates are half as good as the buying experience, I have found my new go-to for gift giving!
Thank you for your kind review. I hope your friend found a new favorite!
Exceeded my very high expectations
This was so wonderful, it is such a luxury to be able to rely on someone else to select chocolate for me. It is how I learn about chocolate that I have never had before. There is only one other chocolate company that comes close to Bar & Cocoa. This is an excellent value, I have a small serving almost daily and I could see this lasting several months or more.
Outstanding!
Communication and customer service with Pashmina was outstanding. My mother was delighted with her Mother's Day gift box!
Now, what excuse can I use to buy a gift box for myself?
What makes Bar & Cocoa different?
At Bar & Cocoa, we're not just another chocolate shop; we're a chocolate experience. We meticulously curate a selection of the finest chocolates from artisanal makers around the globe. Our focus is on quality, ethical sourcing, and sustainability. We go the extra mile to educate our customers about the complexities of cacao cultivation and chocolate making through detailed product descriptions, flavor profiles, and origin stories. When you shop with us, you're not just indulging in a treat; you're becoming part of a community that values the art and science of chocolate making.
What is bean to bar chocolate?
Bean to bar chocolate is chocolate that is made from scratch by the same producer, starting from the raw cacao beans and ending with the finished chocolate bars and treats. This process allows the chocolate maker to control every aspect of the chocolate making, such as roasting, grinding, conching, tempering, and molding. Bean to bar chocolate is often more flavorful, nuanced, and ethical than mass-produced chocolate. It reflects the artistry and craftsmanship of the maker and the quality and origin of the cacao.
How do you source your chocolate? Is it ethical and sustainable?
We source our chocolate from award winning craft makers who use high-quality cacao beans and go beyond fair trade. We work with over 50 fine chocolate makers from around the world who share our values and passion for real chocolate. Some of the countries we source our chocolate from include Peru, Vietnam, Brazil, Colombia, Nicaragua,, Philippines, India, and many more. We are always on the lookout for new and exciting origins and makers to add to our collection.
Do you have vegan, or keto-friendly or soy free chocolate?
Yes, we do! We have a variety of chocolate options that cater to different dietary preferences and needs. You can browse our collections of organic chocolate, vegan chocolate, keto-friendly chocolate, sugar-free chocolate, dairy-free chocolate, gluten-free chocolate, soy-free chocolate, nut-free chocolate, and more on our website. We also provide detailed information on each product page about the ingredients and allergens of each product.
How do you pick your chocolate makers?
When it comes to selecting our chocolate offerings, we're basically the chocolate sommeliers you never knew you needed. Our process starts with rigorous research and tastings. Yeah, it's a tough job, but someone's gotta do it. We scour the globe for artisanal and craft chocolate makers who share our commitment to quality, ethical sourcing, and innovation in flavor.
We scrutinize everything from cacao origin to production methods and flavor profiles. Only the best of the best make it into our curated collection, offering you a world-class chocolate experience in every bite. Each bar has a story, a unique flavor profile, and the power to transport you to a different part of the globe. We're not just selling chocolate; we're offering an edible journey.
How do you ship your chocolate?
We ship our chocolate using USPS Priority Mail or FedEx Ground depending on selected method of shipment, your location, and order size. When warm, we use ice packs to ensure that it arrives in no melt condition. Shipping is free on orders over $75 within the US, and only $6.99 under that.