Weight: 60 g
Regular price
Sale price
$9.00
Unit price
per
Sale
Sold out
Reasons to Love
Made with Estate Grown Cacao
Tree to Bar
Akesson's 100% Madagascar is our second most popular 100% chocolate, (Pralus Le 100% being first).
You see 100% and you might expect something very bitter, but here we have a tart creamy bar that is no doubt intensely strong. It has a very expressive cocoa aroma with subtle fruity-sweet tartness and pleasant flavor notes that evoke citrus and red berries.

Ingredients: 100% organic cocoa: organic cocoa beans, organic cocoa butter. May contain traces of nuts, almonds, soya, milk and gluten.
Certified EU Organic
EU Organic
Manufactured in a facility which also processes dairy
Trace Dairy
Manufactured in a facility which also processes peanuts
Trace Peanuts
Manufactured in a facility which also processes soy
Trace Soy
Manufactured in a facility which also processes treenuts
Trace Treenut
No animal products, and vegan sugar or alternative sweetener
Vegan+
Manufactured in a facility which also processes wheat or gluten
Trace Gluten
Awards
View full details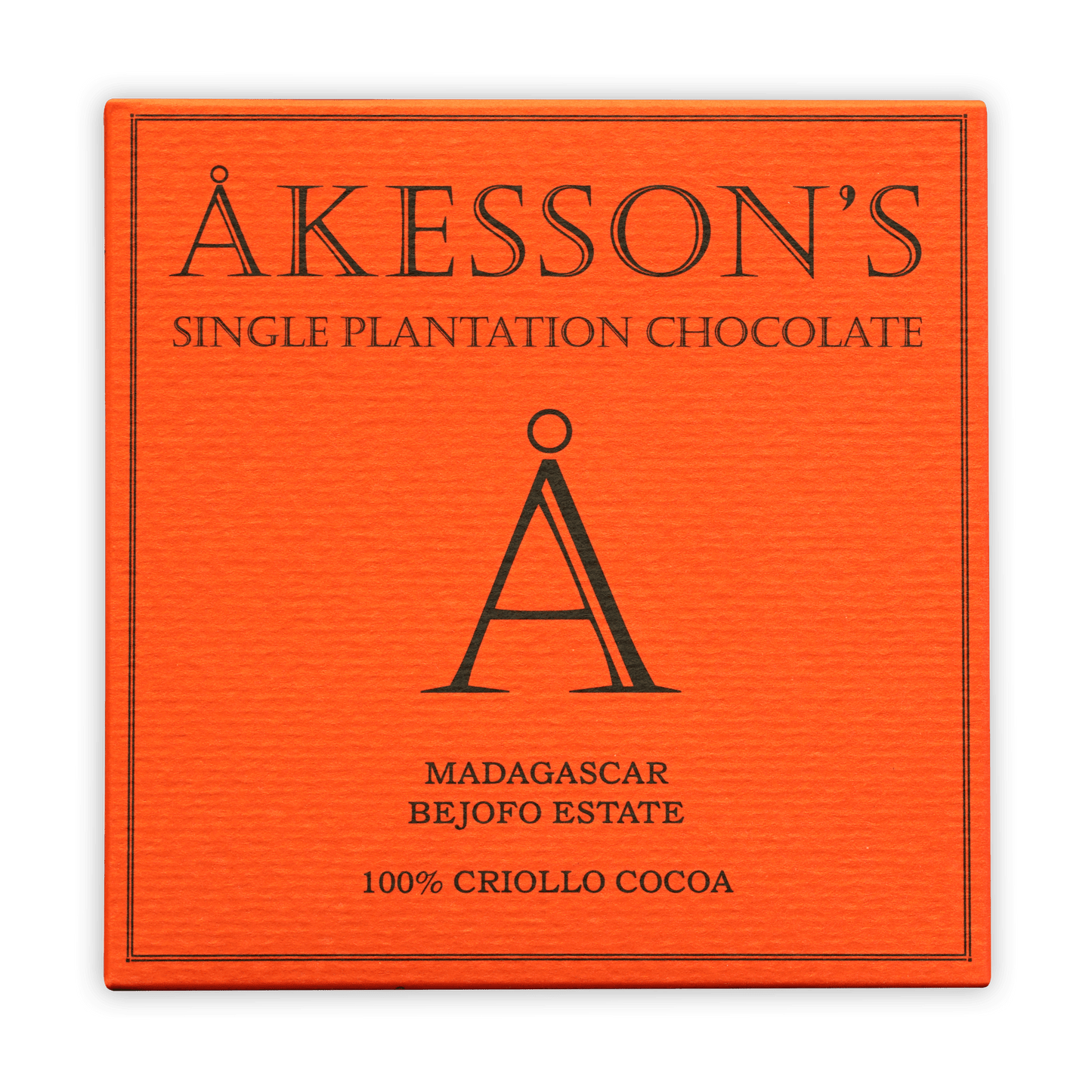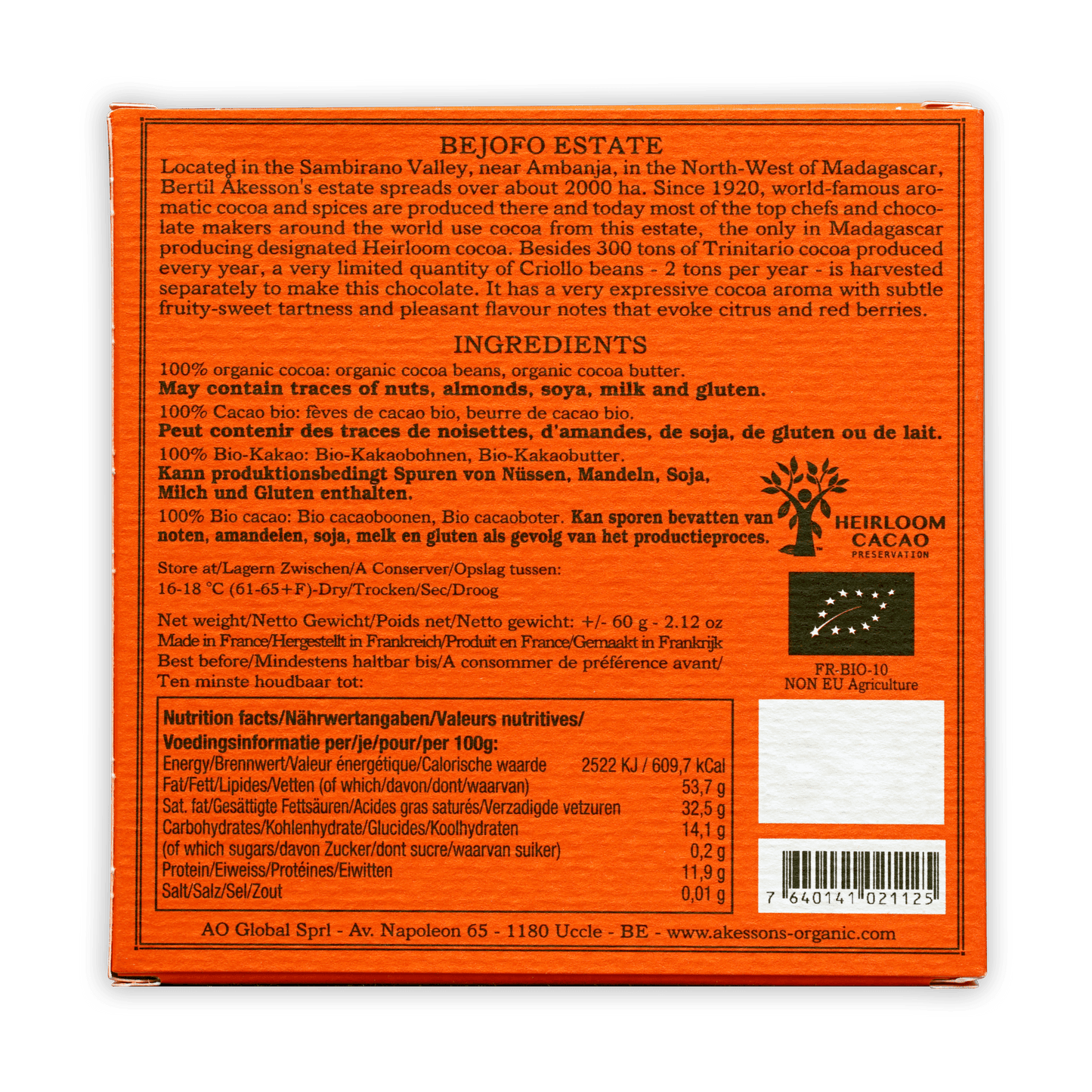 GIFT OPTIONS IN CART

Add a Free Gift Message or a Signature Gift Box ($6). Need Help? Find the perfect gift.

A CURATED SELECTION

A diverse selection of the best, ethically made chocolate, from over 60 fine chocolate makers.

HOW WE SHIP

If it's warm we ship with eco-friendly insulation and ice packs.

INTERNATIONAL SHIPPING

Canada: $11.99 Flat Rate $150+ Other Countries: Rates calculated at checkout.
29924328332
Also from the Same Region
@cacao.crazy
I have met my match--Akesson's 100% Criollo bar 💥👅
This was surpisingly light for a 100%, looked like many 70s I have enjoyed. The smell was subtle and beautiful, with notes of lemon zest and fresh tart raspberries. However, once you put a piece on your tongue, the astringency will stun you in one punch 👊😯
The subtle aromas become powerful, like you bit directly into a lemon rind coated in cocoa powder. Sour citrus and cocoa bitterness combine into something unstoppable, but I have a plan to enjoy this. This week I intend to make delicious Brigaderios truffles with this bar to see if added sweetness highlights the notes better with less overwhelming astringency.
Excellent texture, nice mix of flavors
This bar has one of the best textures I have experienced so far. It is ground a bit on the fine side with no noticeable grittiness, it gives a somewhat dense coating on your tongue yet still feels very smooth. The melt is extremely satisfying.
Flavor wise, I would say this bar is definitely a sensory experience, yet there isn't a single distinct strong flavor, which is perhaps why many describe it as mellow or mild. There is a slight astringency yet sweetness, and noticeable tanginess which gets more noticeable if you chew it or work it with your tongue. You can feel some hits of roasted nuts and citrus, and if you chew it there is sort of an acidic savory flavor (cheesy) that is common to Criollo beans.
Overall, I think this bar is really great value and a great 100% Criollo bar. Definitely also recommended to introduce people to 100% bars.
a MUST try!!!!!!!
You just think you don't like 100% chocolate. Taste this and you will change your mind. They way it melts in your mouth is, well, it's just sexy!
Is This Really 100%?
If you want to try your first 100% bar, try this one. Another reviewer calls this mellow, and that's exactly what it is. The first time I tried it, I couldn't believe it had no sugar in it. It's smooth, mellow. The notes mention citrus and red berries, but your palate won't be assaulted by sharpness; those truly are subtle hints. Considering how exquisite this bar is, it's a great value.
Happy with purchase
I have enjoyed all the Akesson's bars I've tried. This is a more milder 100 bar...a good intro bar for those dipping their feet in 100% cocoa.
Choosing a selection results in a full page refresh.
Opens in a new window.